Good question. We recommend newcomers try a hosting service.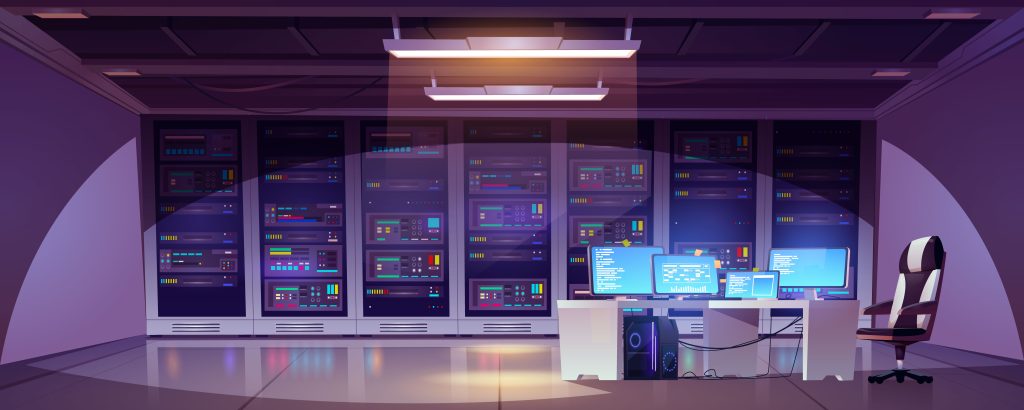 There are an overwhelming number of free and paid hosting providers available for a multitude of games, including Minecraft: Java Edition. Some are great, many are not, and a few excel at particular aspects compared to their competitors. We'll attempt to walk you through some of our favorites today, so you can hopefully make an informed decision.
Self-Hosting
Hosting a server by yourself is not as difficult as it might sound, but does require some basic computer skills. First, decide on which server software to use, then follow that platform's setup guide. Next, you will likely need to learn port-forwarding before you can share your IP with trusted individuals. Lastly, sharing your network online comes with safety/security concerns, so running or purchasing a VPN ("Virtual Private Network") is practically mandatory. At that point, however, most individuals may as well have simply bought server hosting and saved themselves the hassle.
MineFort
MineFort is a free host offering similar to the popular MineHunt, but with full FTP ("File Transfer Protocol") access which allows you to upload custom plugins. The experience is decent, but with only 1GB of memory and an unknown CPU, there are better options out there for a mere pittance. MineFort is a good choice if you just want to test out an idea with a handful of players.
Realms
Provided by Mojang themselves, Realms is an easy way to simply get a space to play Minecraft together with up to 10 your friends. Decent quality support is provided in the event of an issue. Although some free community content is included, we found the experience to be bare-bones—no specialized tweaks, plugins, or moderation tools. Also, the servers aren't public; you would have to manually invite new players.
Pebblehost
Pebblehost is a wide-reaching server host with a focus on Minecraft. It was built by individuals rooted in the community, and while they do offer other game hosting, we've had the best experience with their Minecraft support. Their website has a convenient slider to show you how much you'd pay per gigabite of memory, and they also offer dedicated servers for large projects. Full disclaimer: the website you're reading this on is hosted on Pebblehost web servers, but they neither requested nor compensated us for this overview.
Birdflop
Run by the main developer of Purpur, our experience with Birdflop has been solid, albeit slow. If there isn't a waiting list to be able to purchase a plan, their offerings are very affordable when compared to competitors. Paid support is fast and they offer free, complimentary tools made in-house for server owners. One such tool, BotFlop, actually analyzes server profiles and suggests ways to optimize performance. Once you're ready, we recommend trying this tool for yourself at the Quests community discord.
Bloom Host
Plans from this server host are a little on the pricey side, but that's largely because of their exclusive DuckPanel interface which lets you "split" your allocation into multiple servers. This means you pay one monthly price for the ability to have a handful of servers, whether they be for Minecraft or another supported game. While some of their US servers tend to have a waiting list, Bloom Host is a good choice for those with several ideas in mind.
Alien Host
The newest offering we've looked at, Alien Host is great for those in need of a little more than the standard experience. Their basic plan includes one server split, and some plans even have machines available in Asia, which may be desirable for targeting the large player-base in regions like China. Support was extremely responsive, as one would expect of an up-and-coming service, and their plugin manager makes installation a breeze (compared to manually finding, downloading, and uploading resources to your server).
Conclusion
As you can see, the choice of hosting really depends on personal goals. Those with the do-it-yourself mindset and a handle on computing will find self-hosting the natural choice, while those with a limited budget or just looking to test the waters will gravitate toward MineFort. For those in need of a well-rounded experience, Pebblehost is a natural choice, while also offering great support like Birdflop. For those of you with big dreams or deep pockets, Bloom Host is likely the best high-tier performer around, while Alien Host offers several of their features at a more affordable price.
If you're looking to test your new server host's performance, we recommend Host-Benchmark. You can compare against most major server hosts via Host-BenchMark-Results.
Browsit, LLC is not directly affiliated with any of the hosts or tools listed, unless otherwise noted. Alien Labs does offer a few resources on our Lectern platform. If you have questions about a particular product or service, please reach out to its support team. Thanks!
This post was last updated July 3, 2023 9:56 pm EDT